We've decided to start this "Resources For Bloggers" page to help other new bloggers with all the things we're learning as we go along.
1. Photography/Editing/Equipment:
• Cody uses a Sony A7II with 28-70mm lens and occasionally uses his 70-200mm lens.
• We edit all our photos with Lightroom & Photoshop. We have the Photography Pack through Adobe Creative Cloud for $9.99/month.
• Since we both work all day, we do most of our photography in the evening. We use the Yongnua YN-300 LED Video Light with a Westcott 40″ 2 in 1 White Collapsible Reflector Diffuser.
2. Domain/Hosting/Theme:
We have recently switched to BlueHost and we couldn't be happier. Everything is easier, simpler and slicker. Together with our hosting switch, we also changed to the Genesis Framework and the Foodie Pro Theme. We'd fully recommend this to anyone who wants to start a food blog. Or any other type blog.
You can set it up in 3 steps. Registering with BlueHost. Installing the Genesis Framework. Installing the Foodie Pro theme. Then you are pretty much ready to go. With these options being so popular, there are countless tutorials and forums to help you along every step of the way.
3. Kitchen Equipment:
This list will grow as we find more gadgets we would like to recommend.
• Ninja Prep Master Pro – A nifty little blender/food processor. Doesn't hurt your wallet and actually gets the job done. It also cleans up super easy – which is a big bonus!
• For all our zucchini [or other veggie] noodle needs – we use a cool little contraption called Vegetti. And at only $11.90 – you have no excuses! Check out our amazing Creamy Chicken Zucchini Pasta or kick-ass Mongolian Pork Stir Fry recipe to see it in use!
4. Improving Your Skills:
• Lindsay from the great Pinch of Yum has a wonderful e-book called Tasty Food Photography. We got a lot of great tips and tricks from it and I recommend it to anyone who wants to improve their food photography.
5. Monetizing Your Blog:
Obviously, since we're a "baby" blog, we're not making a ton of money at the moment, but every little bit that comes in make you feel like your hard work means something. For me, it's all about the love of food, photography and writing at the moment, but it will be really nice when the blog generates enough income to justify the time we spend on it.
We use 4 advertising networks on Chirpy:
• Gourmet Ads (as seen in the circular image below). They currently account for the largest chunk of Chirpy's income. They pay per impression, which is why I like them. They have very good customer support and lots of help setting up your ad tags. There's are some views per month/users per month requirements to be able to join, though.
• Sovrn – We've been part of Sovrn from the very start, since they are pretty easy to join and don't have a lot of requirements. Our income from them isn't that much though, so we might swop our their ads spaces for a different network we've applied to in the near future.
• Swoop – An easy to join network that scans your posts and ads relevant and non-invasive ads in your content. They pay per click and I haven't really seen much income from them yet. Maybe as our views go up, we might see some improvement. So we'll stick around longer. What's great about it is that when you sign up, they set up everything for you. You are given a link to a dashboard where you can watch the money roll in.
• ProGrids – We recently joined ProGrids and so far I'm really happy with them. They add a little "Let's Shop" widget to the bottom of every post and they pay per impression. You can customise the widget to fit your blog and everything!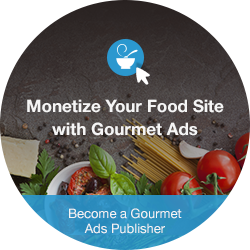 6. Generating Traffic:
Generating traffic is the hardest thing when you're first starting up a blog and it might seem impossible to do, especially when you have all these well established blogs to look up to. Blogging is a business, just like anything else. There's always going to be a bigger fish. No matter what you start (whether it's learning to play guitar, learning to paint, opening a restaurant or anything you can think of), there's always going to be something that has been doing it for way longer than you have.
The key is to not let that bother you. Focus on your own blog and making it the best you possibly can.
• Create high quality content. Beautiful photography will catch people's eye, but having a truly delicious recipe that goes along with it, will bring them back.
• Marketing on Social Media. We currently focus mainly on Instagram, Facebook and Google+. We are also on Pinterest.
• We submit to various "food porn" websites. These are great for bringing in traffic, but also for getting your links out there in the big world wide web.